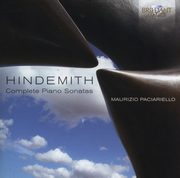 Hindemith: Complete Piano Sonatas
Muzyka
Producent: Brilliant Classics
Rok wydania:

2015 r.


Format:

14.0x12.0cm


:

Pudełko CD


Język: angielski

Dostępność:

dostępny (Uwaga: Niski stan magazynowy)




The 'true amalgam of ecstasy and reason' which Glenn Gould found within Paul Hindemith's music is abundantly evident in the three piano sonatas which he wrote fairly quickly in 1936, following the artistic success but deep personal wound created by the first performances of his masterpiece, Mathis der Maler, which was banned by the Nazis as soon as it had been heard. Inevitably these sonatas are more compact and restrained in expression, but their novel forms still enclose furious marches and impassioned laments within the wrong-note counterpoint that was Hindemith's characteristic tone of voice.

The first is the most substantial of the three sonatas, a five-movement work inspired by a Holderlin poem. The second is more agile and delicate in form, most clearly derived from Baroque models, somewhat ironic in tone and concluding with a witty Rondo. The third is perhaps the most lucid of the triptych, in which Beethoven's influence is writ large, from the throwaway subject of the first movement to the strenuous fugue of the finale, which is prefaced by an imposing slow movement with the tragic pulse of a funeral march.

This is Maurizio Paciarello's debut recording for Brilliant Classics, but he has made previous recordings of repertoire from Kuhlau to Respighi. This Hindemith CD benefits from his wide study of historically informed performance values from Baroque and Classical times onwards, including teaching from Paul Badura-Skoda, and performances of Beethoven's music on original Broadwood instruments.

Paul Hindemith's piano sonatas span his whole creative life, and may be seen as a cycle of creative and emotional development.
Hindemith's musical language is based on the 19-th century classics, and is imbued with his highly personal use of elements from the Baroque, polytonality and jazz. Pianistically highly challenging and virtuoso, they are true masterworks, and deserve to be played more in concerts.
Italian pianist Maurizio Paciariello, schooled by Aldo Ciccolini and Paul Badura-Skoda and Prize winner of the ARD Competition, is a champion of rare repertoire and specialist on period instruments.
Booklet notes by the artist.