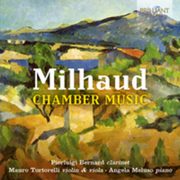 CHAMBER MUSIC
Muzyka
Producent: Brilliant Classics
Rok wydania:

2016 r.


Format:

12.1x14.4


:

Pudełko CD


Język: angielski

Dostępność:

aktualnie niedostępny




With this album, Tortorelli and Meluso have provided a sequel to their Brilliant Classics recording of the sonatas for violin and viola, released late in 2016. The previous disc was praised in online reviews for 'the excellent playing of Gran Duo Italiano' (Lynn Rene Bailey) and the sense, so characteristic of the composer, that 'irony is always just around the corner when it comes to Milhaud, and the wink and sardonic smile is there along with whatever mock pomposity he comes up with' (Dean Frey).

They are now joined by Pierluigi Bernard, first of all for the lively Suite from 1936 which Milhaud wrote for all three instruments: an unusual combination in itself, but then Milhaud's facility allowed him to write for almost any imaginable ensemble, while always coming up withmusic that is grateful for the musicians, pleasant for the listeners and inimitably personal to himself.

With the Danses de Jacarémirim Op.256 (1945) for violin and piano, Milhaud made playful reference to a small Brazilian alligator with big eyes and a long snout, reflecting his long-standing passion for the culture of that country. Its salon-like easy humour is shared by the Sonatina pastorale for solo violin and the Caprice for clarinet and piano. By contrast, the Élégie for viola and piano, also from 1945, more reflects the temper of its troubled times, whereas the Farandoleurs from the following year is a playful, heartfelt homage to the Renaissance-era Provençal dance form.

Perhaps the best-known work on the album is the Scaramouche Suite which exists in several versions, and is here performed on clarinet and piano. The suite shares with the best of Milhaud a quality of rational distance from intense expression, a palpable sense of joy taken in making music, and an irrepressible sense of fun. If it's hard to know what lies behind the masks, it's impossible not to smile with the masks themselves.

Darius Milhaud is one of the most colourful and versatile composers of 20th century France. He was active in all fields and genres of composition: opera, choral, orchestral, chamber and solo works, a prolific writer and bold spirit, a member of the French composer's group "Les Six", a modernist influenced by jazz, polytonality and Brazilian culture.
This new recording presents chamber music for clarinet, violin, viola and piano, in different combinations. Most works are small scale, exquisite and delicious miniatures smelling of the rich perfumes of the French Provence, the region from which Milhaud came and which was his source of inspiration during his long creative life.
Excellent performances by violinist Mauro Tortorelli, pianist Angela Meluso and clarinetist Pierluigi Bernard. Tortorelli already recorded a successful Milhaud album for Brilliant Classics, the complete violin and viola sonatas (BC95232). Their recording of the Saint-Saëns violin sonatas received 5 stars in the French Diapason.