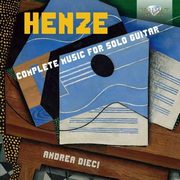 Henze Complete Music For Solo Guitar
Muzyka
Producent: Brilliant Classics
Rok wydania:

2017 r.


Format:

12.2x13.9


:

Pudełko CD


Język: angielski

Dostępność:

dostępny




Dieci, Andrea - Kammermusik 58 Ueber Die Hymne In
Nr. 1 (Ohne Satzbezeichnung)
Nr. 2 (Ohne Satzbezeichnung)
Nr. 3 (Ohne Satzbezeichnung)
Dieci, Andrea - Royal Winter Music: First Sonata O
1. Glaucester -
1. Ritornello
2. Romeo & Juliet -
2. Ritornello
3. Ariel -
3. Ritornello
4. Ophelia -
4. Ritornello
5. Touchstone, Audrey & William -
5. Ritornello
6. Oberon
Dieci, Andrea - Royal Winter Music: Second Sonata
1. Sir Andrew Aguecheek
2. Bottom's Dream
3. Mad Lady Macbeth

? Hans Werner Henze was one of the most important composers of the 2nd
half of the 20th century, and certainly one of the most prolific. He often
wrote for the guitar, exploring the evocative potential of the instrument
so that it could express a wide range of different emotions and
atmospheres.
? This CD presents the two Sonatas on Shakespearean Characters, an
important cycle portraying characters like Lady Macbeth, Romeo & Juliet
and Ariel, finding a new dramatic expression in these personifications of
timeless human values.
? Italian guitarist Andrea Dieci, a winner of several international
competitions, is called "A true star of the classical guitar" (Corriere della
sera) and "an impressive guitarist" (New York Times Herald). He recorded
for Brilliant Classics the complete works by Jappelli (BC9435) and guitar
works by Piazzolla (BC 94896).
? Excellent liner notes by a musicologist, in both English and Italian.